The Tribune| Ludhiana, September 13
Residents of Billon village, Machhiwara, were up in arms against the senior government functionaries for not deciding their representation as directed by the Punjab and Haryana High Court regarding illegal mining in the village.
They alleged that the administration was not taking any step to stop illegal mining of sand and minerals at the behest of gram panchayat and pressure of big-wigs.
Taking to the reporters here, former panch Gurmit Singh, Subedar Zora Singh, Kulwant Singh Khalsa and Surinder Singh distributed copies of the orders passed by Justice Surya Kant and Justice Sudhir Mittal directing the Deputy Commissioner Ludhiana, Director Mining, Department of Industries and Commerce, Director Rural Development and Panchayat for deciding the representation moved by villagers in shape of legal notice dated July 27, 2017, within two months from the date of receipt of the copy of the order.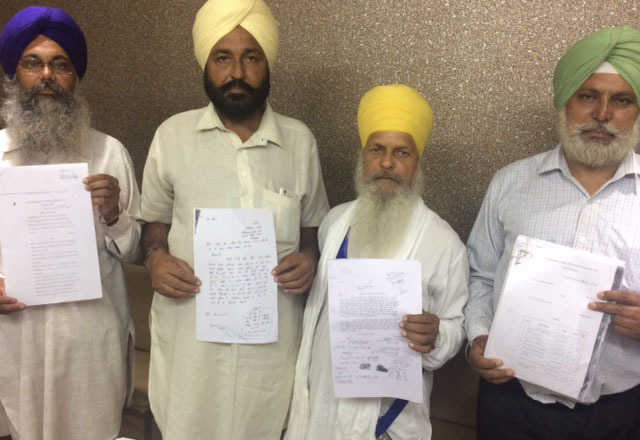 Dalip Singh, Jora Singh and Paramjit Kaur of Billon village had filed a writ petition with a plea that under the garb of levelling the 9 acre shamlat land of the village, illegal mining was going on unabated. The villagers wanted to save their land, but the gram panchayat was justifying their decision.
It was alleged that the copy of orders were supplied to almost all offices, but nobody was interested in taking action for stopping illegal mining.
The said illegal action was being carried out in the shamlat land, which was very near to ancient monuments of Maqbara (tombs) of Bahadur Khan, Hussain Khan and Alawal Khan, which were declared protected monuments under the provisions of Punjab Ancient Monuments and Archaeological Sites and Remains Act. More so, the specific prohibitory orders were issued on August 1, 2017, against any digging or excavation of any kind near the said protected monuments.
These villagers claim that if they would not get justice, they would again move the High Court with a request to initiate appropriate proceedings against the officers concerned.

http://www.tribuneindia.com/news/ludhiana/billon-residents-up-in-arms-against-illegal-mining/466720.html